THIS PROGRAM IS CURRENTLY CLOSED DUE TO COVID RESTRICTIONS (Sept 2, 21)

Philosophy - The program is structured to encourage parents & children in exploring physical activity in a gymnastics environment.
Drop In is a safe and FUN place for your children to be while you take some time to go to dinner, run errands or just relax! Your children will have the opportunity to explore all of the gymnastics equipment and try new skills or just have fun in a safe and supervised environment. Everyone is welcome, both members and non-members.
Register online or at the front desk to reserve your spot. Space is limited so we will take participants on a first come first serve basis. A legal guardian must complete a release form online or at the front desk for all participants under the age of 19. Payments are to be made at the door before drop in time begins or you can purchase a drop in punchcard whilch holds 10 classes (prepaid).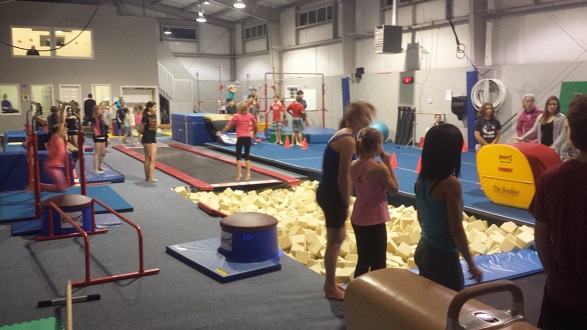 Program Prerequisites - No Gymnastics Experience Required